Growing Up On the Playground/Nuestro patio de recreo
Release date: October 31, 2018

The Runaway Piggy/El cochinito fugitivo
In the classic tradition of The Gingerbread Man, James Luna's piggy cookie leaps off the baking tray and takes the reader on a mad dash through the barrio.
The telephone repairman, the bus driver … each person the piggy encounters is greeted by his laugh and the repeated refrain: "Chase me! Chase me down the street! But this is one piggy you won't get to eat! I ran away from the others and I'll run away from you!" The cochinito fugitivo avoids being eaten by the long line of people chasing him through the neighborhood streets … until he meets a crafty little girl named Rosa!
Children—and adults too—will delight in the clever piggy's escape from Martha's Panadería in this entertaining re-telling of a familiar story set in a colorful Latino neighborhood. A recipe to make Mexican gingerbread pig cookies is included in both English and Spanish.
ISBN: 978-1-22552-813-9
Ages: 4-8

Kirkus Review:
Home

To order this book:

Arte Publico:
Home
Amazon:
Home
Barnes and Noble:
Home
A Mummy in Her Backpack/Una momia en su mochila
Flor enjoyed her two-week trip to Mexico, though she's glad to be back at school. But when she tries to pull her homework out of her backpack, she's shocked to feel a cold hand clutching hers. She's even more stunned when she sees two yellow eyes peeking out at her.
Flor and her best friend Lupita stare in astonishment as a cowboy hat, followed by a small man with dark yellow skin and thin, stringy hair, emerges from her backpack. He introduces himself as Rafa, a mummy from the famous museum in Guanajuato. She can't believe that an actual mummy hitched a ride with her to the United States!
Amusing hijinks ensue as the girls try to hide Rafa from their teacher, classmates and family. And when Rafa realizes that it's almost the Day of the Dead, or El Día de los Muertos, he longs to return home. The girls are forced to reveal their secret and seek help from an adult. How can they get Rafa home in time for the annual celebration honoring deceased loved ones? Published in a bilingual "flip" format, young readers ages 8 to 12 will savor this entertaining story about mummies, friendship and responsibility.
ISBN: 978-1-55885-756-8
To order this book:

Arte Publico:
Home
Amazon:
Home
Barnes and Noble:
Home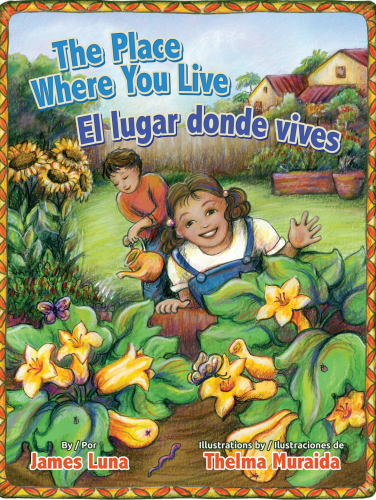 The Place Where You Live

"This is the kitchen, warm and sunny, / with tortillas, hot chocolate and everything yummy, / here in the place where you live."
Young children will delight in reading this simple rhyming text with a recurring refrain that describes a loving home and neighborhood. There's the garden, "alive and green / with peppers and squash that you planted in spring," the neighbor who trades sweet cornbread for Grandma's home-made tortillas and the library where kids read about voyages, magic and giants.
There's the school where friends play, learn and grow, and the park where kids swing, slide, laugh and climb, all in "the place where you live." And at the end of a long day, Mamá and Papá hug you tight because "you make them so glad."
Lively illustrations in vibrant colors bring to life award-winning children's book author James Luna's affectionate tribute to home. This charming bilingual book will encourage young children to talk—and even write—about their own families, neighborhoods and homes.
Coming Soon: Growing Up on the Playground
A new picture book to debut in 2018.
The Book Menu
The Runaway Piggy


A Mummy in Her Backpack


The Place Where You Live


Growing Up on the Playground