Why moonstories?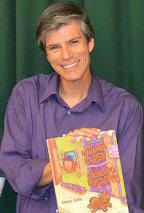 Moonstories is the author site for James Luna, whose books, The Runaway Piggy/El cochinito fugitivo, and A Mummy in Her Backpack/ Una momia en su mochila are published by Arte Publico/Pinata Books.


"Luna" is the word for "moon" in Spanish, so on this site you will find stories written by James Luna. Get it? Moon stories!



A Mummy in Her Backpack/Una momia en su mochila tells the story of Flor, who returns from a trip to Mexico only to find that a mummy has hidden in her backpack.
The mummy introduces himself as Rafa, a resident of the famous mummy museum in Guanjuato that Flor visited on her trip.
Flor's troubles increase when she tries to hide Rafa from her teacher, her classmates and her family.
When Rafa realizes that it's almost the Day of the Dead, his favorite holiday, he longs to return home.
Will Flor be able to get Rafa home before he is discovered?